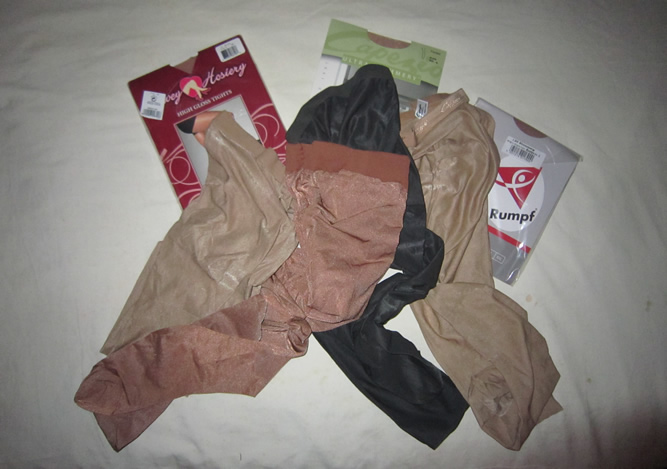 I don't know about you but there are days where the stubble on my legs is a little too long and I need something to hide it. Or maybe it is a bit too cold and I want something warmer for my legs. Usually, though, I like to once in a while look at my legs shine as if they were covered in gold plating.
In my perspective, I equate pantyhose, seen on classy women, as the ultimate garment in making me feel feminine and sexy. Tights, on the other hand, are quite thicker (higher denier), very shiny and are mostly associated with dancers, costumes and as a part of exercise apparel. In other words, they are also sexy and feminine but in a dress-up-in-a-costume sort of way.
It just so happens that, often, I love throwing on that leotard or skimpy police woman set for a little role play. And there is nothing better than to have bright shiny legs being the star of (your own) show. Luckily, I've tried out many of the "favorite" brands out there and have come to my own conclusions on what will make your legs look the hottest.
Note that, while Wolford Neon 40 could easily make the list here, it was left out since that was an obvious favorite. That said, here we go in worst to first order…
Peavey High Gloss Tights
These are the primary go-to tights for cocktail waitresses if you've ever been inside a casino in Las Vegas or Atlantic City. To this day, I still have fantasies of becoming one of those lovely ladies in that tight, skimpy costume and brilliantly shiny legs in heels. Unfortunately, my attempt with the same tights, a corset and some heels of my own didn't satisfy that fantasy or the tights fetish either.
I tried on two pairs, one in "suntan" and the other a "coffee bean" (brown) shade. The suntan color looked way off with almost a pinkish hue. Yuck, not for me at all. The brown shade fared better on my legs but didn't knock me out of my socks (pun intended). While there is some shine to them, they are not very shiny and my legs are not resembling those of the casino waitresses.
It is possible I may have gotten the worst colors out of the nine available. Maybe it really is the skimpy costume that makes the fantasy and not the tights. More likely, though, I need that sex-change operation.
Danskin Ultra Shimmery Tights
The ultimate in thickness, shine and (though questionably these days) durability. You could have legs as hairy as a gorilla and these babies would cover them (OK, mostly cover them). Then, afterwards, they blind you with an incredible brilliance in any lighting. Hell, Danskin tights have been around longer than I've had my pantyhose/tights fetish so they must be doing something right.
Much to the same, I've had two pairs of Danskin tights, a suntan and light suntan shade, for nearly ten years without even the slightest hint of a run. This is even after many wearings and washings and even a few Jane Fonda video sessions. One caveat, however, is that I bought another pair more recently, used them far less and now are starting to separate at the seams in the crotch. Not a good sign.
I don't know whether this means I purchased a slightly defective pair or the quality of these tights has diminished somewhat. Either way, they more than fulfilled my casino waitress fantasy as I slipped them on with that corset and heels.
Ultra Shimmery Tights at Danskin
JC Penney Fitness Tights
I really love a good shine on tights and these deliver the best of them all. In fact, I've never seen another pair of tights or pantyhose with any kind of similar gloss. They have a shine so smooth and even, it is almost like glass or you could even say painted on with a sheen. Not to mention, after trying on all three shades (dark grey, suntan, nude), it looks incredible on all three.
Of course, all that beautiful shine comes at a cost. They don't stretch all that much so the first time putting these on is like trying to fit a garden hose over your leg. Eventually, whenever you finally get these over your ass, they mold to you and loosen up a bit. They are fairly durable, too. Mine lasted through numerous workouts and jerk offs without nary a tear.
Of course, since JC Penney is going down the tubes these days, who knows how long these will be available for.
Rumpf Shimmery Tight
Not really a known brand outside of Germany. Actually, I happened to stumble across a pair of these for sale on eBay and was giddy with glee from the moment I got them. These are advertised as exercise tights but seem to have less thickness (around 50 denier) than the others (around 70 denier) so they are more like a cross between pantyhose and tights.
As so, I love to use these pairing with my favorite dresses or lingerie and, of course, heels. They climb to nearly the top of my favorite tights, though, for the suntan color which has more of a copper hue to it and is more of a true "suntan" shade than the other brands I've tried on.
This may be more of a personal preference, but I do tend to gravitate towards pantyhose that are a little thicker without looking they are better off for sweating and straining yourself in… or dishing out cocktails. Unless I can get a hold of a casino costume that is.
Capezio Ultra Shimmery Tight
Like the Danskin tights, I had purchased a pair of these maybe five years ago in a "caramel" (beige) color that has survived rigorous wear and washes. By far it is my favorite pair of the bunch by actually retaining its beautiful shine  along with its softness and silkiness. They are gorgeous. Period.
However, as with the Danskin, I recently purchased a pair that didn't seem to have the same shine or sexy smooth look to them. Wow, did the quality all of a sudden change on these too I was thinking. Then I found out that giving them a wash somehow transforms these tights like Cinderella, giving them the quality characteristics like my older pair.
One thing I had to find out the hard way, buy these one size higher than your usual size as they tend to fit small. If it is already too late, give your too-small pair to the next casino waitress you see as a tip.
Capezio Ultra Shimmery Tights at DanceWear Corner
* * *
By no means have I covered all brands out there, just the ones more widely available. So if you have a another favorite tight that graces your legs every day, let me know in a comment below.