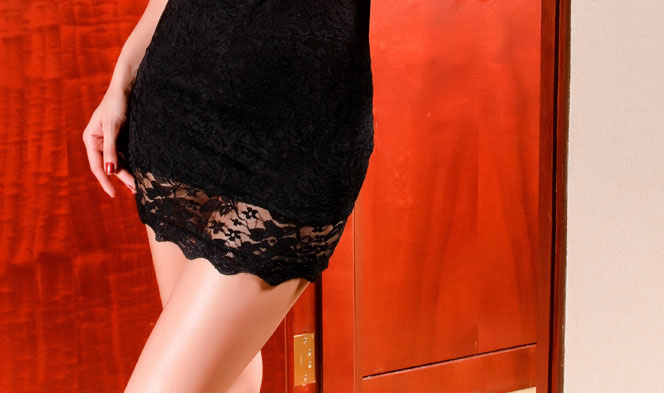 Part 3: "Hard" Lessons Learned
Part 1: Fantasy Gone Horribly Wrong
* * *
Part 4: Punished, And Liking It
Rob was shocked by what he heard. There in front of him was what appeared to be the only other female in the club (besides his own mother) yet was another crossdresser, just like him, who was dressed just as sexy but in a black dress and also wearing black Wolford pantyhose, just like he was. "She," however, appeared to be several years  older, much like the other college aged dudes in the club.
"Oh, well nice to meet you," said Rob, "I really love that dress and are those Wolfords you have on?" he continued admiring the confident beauty in front of him.
"Thank you darling, I wouldn't wear anything else just like you," replied Sandy, the other crossdresser. "What brings you here?" she then asks.
Rob decided enough with the whole psychology project excuse and explained to Sandy the whole story right from the top. First the trip to the mall to buy sexy lingerie and pantyhose, then racing home to try them on, next getting caught by his mother and, finally, being "punished" by going out to a bar and club with his mother as his teenage crossdresser self.
Sandy, not surprisingly, was completely sympathetic to Rob's tale of what went on that day. She was even more impressed, however, by how he looked in that red mini-dress and how feminine he carried himself, being his first time "out" as a crossdresser. Of course, she couldn't help but to be flattered at the fact that they were both wearing the same pair of black Wolford Neon pantyhose as well.
They both continued to chat on and on in the ladies restroom as they hit it off like two best friends. Really, nothing different than two girls discussing their favorite clothes and makeup. Sandy even left the restroom quickly to return with a gin and tonic for Rob so they could share a drink together.
As their conversation ended, Sandy gave Rob a kiss on the cheek leaving a lipstick print. "I hope to see you again soon," she said, with a wink, and leaving the restroom. Rob was absolutely floored during his girl chat with Sandy, in fact, so much that he noticed he had an attraction to her.
"Could this feeling be real?" he wondered as he stared into the mirror looking at his red dress and beautifully made up face with the lip print on his cheek. He even wondered for a second if this made him gay yet the gin and tonic he just drank made it not matter even the slightest bit.
Out he finally went from the ladies restroom when he noticed, a short distance away, his mother making out with some random guy. "That's my mom," he thought sarcastically as he suddenly conjured up an idea of his own. Then, in an instant, he went to carry out his plan.
Noticing Wanda's purse on the table right next to her, and with his mother obviously occupied, he strutted over and grabbed the car keys from inside of it. Next, he searched for Sandy, who was waiting at the bar ordering another drink, found her and tapped her on the shoulder.
"Wanna go for a drive?" Rob asked her.
"Anytime sweetie," Sandy replied ordering two drinks that they would later sneak out of the club with.
Then out of the club and into Wanda's car they went, giggling like the two convincing girls they were while slurping down their gin and tonics. As Rob started driving, Sandy began directing him to a hill just outside of town where no one for sure would be at this late at night.
An excitement filled Rob as he began to pass his hand over the pantyhose covering Sandy's slim thighs. This was all new to him since he had never before been attracted to another male, albeit a very beautiful female crossdresser. He didn't care at the moment, though, with the second gin and tonic he had helping that out.
Sandy, visibly flattered, gave rob a soft rub over his silken thighs and onto his package, emerging tightly out of his panties and pantyhose underneath. Then she grabbed his hand and locked it with her own like boyfriend and girlfriend or, really, girlfriend and girlfriend.
They arrived to the hill overlooking the city and, not a moment too soon, they immediately began to makeout, grabbing the pantyhose covering each other's ass and enjoying the silky feel against one another. They both then became aroused enough to where Sandy had to finally ask the question.
"Have you ever been with another crossdresser?" to which Rob shyly replied, "No."
"Don't worry dear. We'll go gentle," said Sandy as she gently caressed his ass while lifting up his mini-dress to reveal the black shiny Wolfords. She then pulled down his pantyhose, then the black thong panties he had on underneath to reveal his naked ass. At last, she slipped on a lubed condom over her massive erection.
Rob was initially terrified at what he was about to experience which only intensified as Sandy began to penetrate him. His ass was being violated ever so slowly but leaving a pain he had never felt before, ever. Sandy, however, was aware of the virgin ass that was before her and the pain he was probably feeling so she didn't rush entering into Rob.
But then the pain Rob felt started subsiding as Sandy finally penetrated as far as she could. Then another slow second stroke and a third until finally she was ramming him repeatedly, clapping on his ass, which Rob now began to enjoy as he moaned and screamed louder in his girly voice.
Sandy kept at her frantic thrusts until she finally came with a high pitched "Ahhh" in relief. At that moment Rob finally felt like he was a true woman, oddly enough, just like his mother. The feeling that he was just fucked made him feel like a cheap whore, yet was so intoxicating as it truly felt more feminine than he could ever dream of.
Then it was Rob's turn to make the slut out of Sandy as he now pulled down her black Wolfords and slipped a condom over his own raging member. Rob, however, didn't have to ease into Sandy's experienced ass with care as she gave him the order to go "fast and hard" to which he happily obliged. His member easily penetrated her loose ass and he was clapping against it just as she did to him.
As typical for teenage boys, it took less than 30 seconds for him to come yet Sandy still enjoyed every last second being pounded by the much younger teenager.
Both Rob and Sandy began to kiss and pet each other in their afterglow while tossing out their used condoms and straightening out their dresses, pantyhose and lingerie underneath. Sandy even helped Rob to clean off his smudged makeup and reapply it while doing her own, making themselves ready to go back into the public again.
And off they drove back into town, playfully stroking each other's nyloned legs as before, heading back to the Mix Club they were at earlier. Rob began to wonder what his mother's reaction would be this time since he snuck off with her car while leaving her at the club.
"God, I hope she punishes me again," he thought to himself with a huge smile.