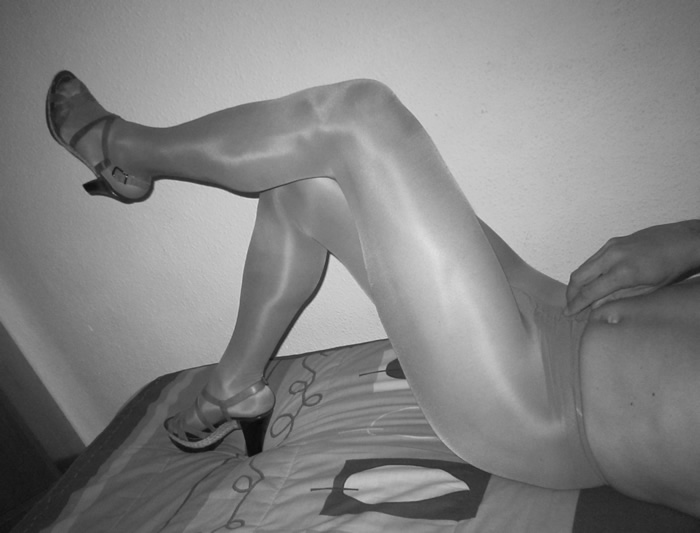 Part IV: Wish Fulfillment
Carl returned home from work, and a quick drink with his crossdressing "mistresses" as well, to find a note left by Amy saying she was leaving their daughter, Amanda, with their babysitter. "Hmm, this is odd" he thought, "Is she planning something for us tonight?"
In the meantime, he just couldn't stop thinking about Chelsea and Jenna and their sexy three-way romp the previous night. The thought turned him on so much, in fact, he wondered if he could slip into his favorite lace teddy and Wolford pantyhose hidden away in the trunk of his car and wank one out before Amy returned. Without giving a second thought, he ran back to the garage, retrieved his ladies wear and ran into the bathroom, slipping on the teddy and pantyhose, and reliving every memory of that night with her greased up hand.
Yet before she was just about to erupt into orgasm, she heard the front door open and close. Quickly, she slipped out of her lingerie and pantyhose, hiding them under a towel,  turned on the shower and got in. Carl didn't bother to blow his juicy wad, opting instead to finishing his usual post-work shower and greet Amy afterwards.
Little did he know, however, what Amy was up to already being in the know about his affair. Initially, she was extremely shocked at the fact that it was with, what she considered, sex with two gay, crossdressing men. Yet, despite several moments of rage, she had quickly come to terms with Carla's secret lingerie and pantyhose fetish and the deep desires that came with it.
And Carla was about to be on the receiving end of those terms.
After Carl dried himself off, put on his casual clothes and exited the bathroom, he went towards the kitchen where Amy was and gave a cheerful hello to his wife. Amy, without even a trace of knowing all about Carla, gave him a kiss on the cheek and "hi dear" right back.
"So why is Amanda with the babysitter?" asked Carl.
"We're having a special dinner with a couple of friends tonight," Amy responded. "They are those two guys who we talked to about remodeling our kitchen last week. Remember?"
Carl vaguely remembered the two, much less even caring about a kitchen remodel. He didn't object, however, knowing that he would probably get a fairly elaborate dinner out of it instead of leftovers.
"OK, great," said Carl with a bit of fake excitement.
"Oh, by the way, I have something for you," Amy said excitedly while grabbing his hand and pulling Carl into their bedroom. As Carl went inside, his eyes went wide and jaw suddenly dropped.
"I want you to wear these dear," she continued while showing off the clothes she had laid out for her: Carla's very own black mini-dress, black bra and panties, black Wolford pantyhose and her favorite stiletto heels. All of which retrieved from Carla's storage locker after Amy dropped off their daughter. Carl was left speechless.
"But you love wearing women's clothes don't you?" she asked, obviously knowing the answer.
"Well, yeah… I suppose," said Carl, the only words he could think of.
"Perfect, you're going to wear these to dinner," Amy politely commanded. "So get dressed. Everyone is coming in an hour," she added.
Carl was left dying to ask how she knew or, even worse, does she know about Chelsea and Jenna? Actually, she didn't want to find out and began to strip out of his manly clothes and into her chosen dresss and lingerie as Amy ordered.
Ironically, Carla began to get an erection as he opened up the Wolford tights package and slipped them over one leg, then the other. This despite the absolute sheer horror of Amy not just knowing about her crossdressing but rather her kinky sex affair the night before. "There is no way she could have found out," Carla mumbles to herself while putting on her panties, then black lacy bra and adjusting it in the mirror.
Amy had left the room for a second and came back with a wig in her hand just as Carla was putting on her little black dress, one of her favorites.
"OK, now we'll really make you look good," said Amy with an ironically joyful smile.
Carla, still too shocked to speak and at Amy's mercy, cracked a glimmer of a smile back awaiting for what was next.
"Have a seat in front of the mirror," Amy kindly ordered, moving Carla to the makeup station. Amy then positioned the black wig, also one of Carla's, on her head and made quick work of beautifully adding makeup to her face. In fact, when she was done, she even surprised herself by how Carla looked completely transformed into a beautiful woman.
Amy even thought she looked prettier than her, which just happened to be her intent all along.
Carla finished off her glamorous night-on-the town appearance by slipping into her prized black Louboutin stilettos with red soles while Amy turned her attention away from Carla to getting herself ready. That is, changing into baggy jeans and a sweatshirt, all intentional on her part. Amy then raced into the kitchen to get dinner ready.
Fashionably late, Amy's two guests, Jim and Dave rang the doorbell. Carla was instantly in sheer terror yet again at the prospect of having to meet these other people in her crossdressed mode.
"Maybe I'll just camp out in the bedroom during dinner," Carla thought to herslf. There was no way she was going out there.
"Get the door honey. I'm busy in the kitchen," Amy said. "GET THE DOOR!" she added in a more angry, commanding tone.
Carla had no choice but to answer the door. Shaking, she slowly opened it and greeted Jim and Dave, instinctively using her best feminine voice.
"Why hello," Carla said warmly greeting the two men and letting them in. "I'm Carla," she added shaking their hands, very gently and lady-like.
Amy rushed out of the kitchen to greet Jim and Dave as well.
"Oh, and I see you've met Carla. Doesn't she look gorgeous tonight?" she said to the two guests while giving a wink to Carla.
"Why don't you all have a seat and I'll make you all some drinks," Amy continued while Carla, Jim and Dave made their way to the dinner table and began to chat. Several minutes later, Amy returned with a tray of drinks in her hand.
"I hope everyone likes screwdrivers," she said joyfully.
Carla's stomach sank even further. She now knew Amy had learned about everything and was now 100% at her mercy for whatever was in store.
As for Amy, though, all seemed to be going as planned.