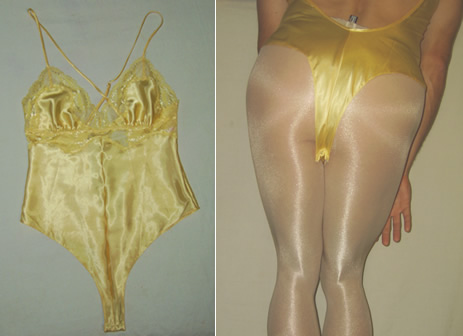 As I sit here painting my toenails today, like a good little girl, and anxiously await my outfit for my night "out," I finally receive that long awaited ring at the buzzer. Yes, it's a package! I'm a bit nervous since that means I'll finally out myself as girly me for a few moments in the next day or two. I'm eager to try on my first fem outfit however.
Hold on a second. I think this package is smaller than expected and begin to wonder if the club shorts and dressy top are skimpier than I had thought they would be. Then I rip the package open to find a gorgeous charmeuse teddy (Shirley of Hollywood). Oh, right, I forgot that I ordered lingerie about a month ago after coming home after a night of drinking with the chums.
Well, I can't throw this on and take this out on a stroll around the block. At least not yet 😉
The teddy has always been my favorite piece of lingerie. Even going back years as a teen, I can remember my first thong lace teddy in a fuscia color which I adored on my skinny little body posing in front of the mirror. What a tart I was but how could I not resist…
Silky satin material plus lace + young crossdresser = the real prom queen.
A teddy is pretty much the sexy, slutty version of a leotard. I had a thing for leotards as a kid that I kind of regret.
They go incredibly well with pantyhose, showing off legs like a Playboy bunny suit. Well, one can dream anyway.
They have a snap crotch. Ease of access is always a plus.
The name "teddy" gives it a innocent childhood appeal. We just won't get into that here.
Well, let's test it out. It is a pastel yellow shade so let's try it out with some Wolford Neon 40 pantyhose in cosmetic (nude). Looks like this teddy is for curvier women since there is a bit more space in the bust and butt areas. It quite a sexy piece of lingerie nonetheless. The scooped back all the way down to the butt cleavage (or top of pantyhose) is something I never had in a teddy and is cute.
OK, enough with the mirror and down to business now. On the bed the crotch snaps go off easily, as they should, and the teddy is pulled up revealing my Wolfords just below. The sensuousness of my new lingerie and silky hose is an irresistible force causing me to uncontrollably massage my now-stiff member right through my pantyhose.
I continue, now gripping harder and stroking while still in it's nylon encasing. The pleasure is so gratifying, I let out an unintentional moan. The stroking becomes more ferocious until I reach the point of explosion. And there it goes, the creamy hot ejection, being very careful not to drench the shiny new lingerie or prized pantyhose.
After wiping myself sticky free, I'd have to say the Shirley of Hollywood charmeuse teddy gets me off quite well in addition to looking nice and sexy if I say so myself. OK, you really have to be here to experience this.
That is, of course, unless you have on hand some of your own snap-crotch skimpies.