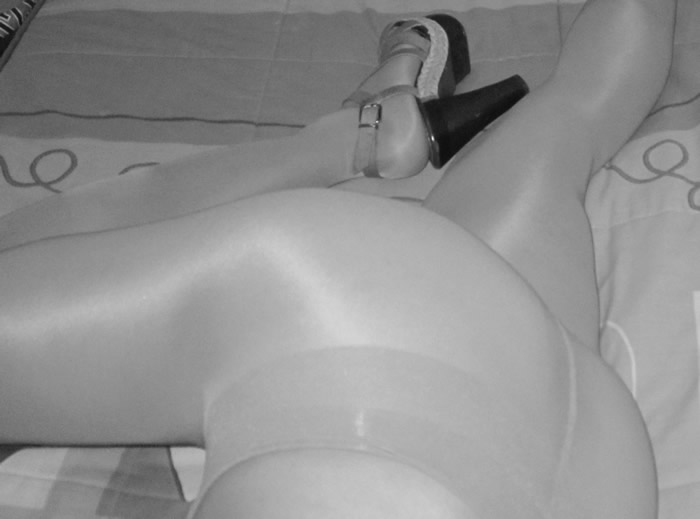 Part II: Happier Hour
"Don't you look delicious," Chelsea whispered to Carla, who just exited the bathroom.
"Oh really?" responded Carla, bashfully.
Jenna walked over from the kitchen with a stiffly made screwdriver in each hand and handed one to the both. She then took a quick glance at the sexy bra, panty and pantyhose ladened Carla and gave her a flirty nod of approval before returning to the kitchen for her own drink.
Meanwhile, Chelsea sat herself down comfortably on the sofa and motioned for Carla to join her, who did not hesitate to take a seat right next to her. Chelsea then began to caress the Wolford pantyhose covering Carla's thigh.
"So you obviously like dressing up. What else do you like?" Chelsea asked with a grin then taking a large gulp of her screwdriver.
Jenna, meanwhile, sat herself on the other side of Carla and ran her hand through her wig, just to let her know she was there and also awaiting the response to Chelsea's question.
"Well, for starters…," Carla said beginning her lifelong story of the extreme lingerie and pantyhose fetishes and all the fantasies she had in them. She rambled on and on, nearly killing the sensual mood between the three. Luckily, the screwdrivers were keeping Chelsea and Jenna afloat, but just barely. That was until Carla got to the part about her fantasy being pantyhose bound and raped.
Chelsea's and Jenna's faces lit up.
"Well, we happen to like that too dear," said Jenna, who got up clutching Carla's hand and lightly pulling her towards her and Chelsea's bedroom. Chelsea got up and followed them into the bedroom, drink in hand.
"Lie down on the bed," said Jenna, to which Carla happily obliged.
Jenna then went to a drawer pulling out several pairs of worn pantyhose. Chelsea put her drink down, kicked off her stiletto heels then slipped out of her black minidress revealing a stylish black camisole, thong panties and, of course, her own natural shade of Wolford pantyhose underneath. She then grabbed a pair of the worn hose from Jenna and began tying up Carla's legs wrapping them tight.
Chelsea took another pair of the hose and tied up Carla's wrists behind her, then stuffed the last pair entirely into her mouth.
"Oh look, isn't she so cute," Jenna said to Chelsea with a wink. Carla was enjoying every moment letting out a girly whimper to communicate her joyously bound predicament. Jenna then slipped out of her own heels and dress revealing a more slutty blue shelf bra, exposing her "breasts," a matching thong and the seemingly required pantyhose, her brand being Pierre Mantoux.