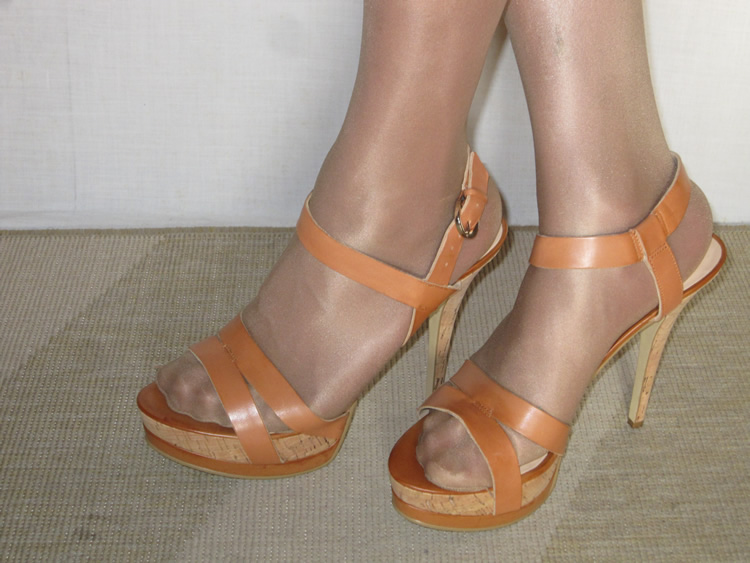 It's no secret that succession of crossdressing phases goes something like this: slip into your mom's pantyhose as a wee-tot, then try on a bra and heels and maybe her makeup a few years later. Then at point when you can pay for all this shit yourself, you buy them all for your very own. So shoes and in particular, high heels, would typically be a part of that equation. I'd say for most crossdressers in my opinion.
Well, somehow after all these years from the wee-tot stage, I still seem to have an aversion to high heels. I think they look sexy and I want to love wearing them since they are clearly the perfect accessory for gorgeous pantyhose over freshly shaven legs. I even splurged on some gorgeous leather clogs thinking that would spur my lust of the heels world. Sadly, those very lovely clogs have gotten few uses to grace my pantyhosed feet ever since.
"What gives?" I've been thinking to myself. I can't go out with just pantyhose and regular shoes. My high heels just aren't "doing it" either for me if you know what I mean. Then I finally realize the issue while browsing for heels one day: I never chose the right heels… duh.
Here's a quick rundown of my collection of high heeled shoes…
Six inch clear plastic heels and, yes the stripper kind. Cheap, uncomfortable and painfully obvious what they are for. Seemed like a logical purchase at the time.
Six inch over-the-knee glittery boots. No, they are not made from leather or even faux leather but fish-scale shiny fabric. Bought with the heels above. Ditto on the logic.
Wedge sandals. Found in a steal of a deal on eBay. Had to glue a strap back in place not too long ago. They still haven't made me feel quite like a supermodel.
Leather clogs. Definitely the most upscale high heels I've ever had but they are just not quite me and are, therefore, rarely used. I must not like heels then?
Yeah, I can see other crossdressers shaking their heads at me. Enough said.
First, let me start out by saying that one telltale sign of a true woman is her ability to look through and pick out a pair for herself. I found this to be quite a journey through hell at first. There aren't just a few high heels to chose from but THOUSANDS. I'm talking just high heeled sandals, too, not boots, flats, casual and whatever else to which there are millions more to browse through. OK, so this is what it is like for a woman when shopping for shoes… I almost call it a day. Almost.